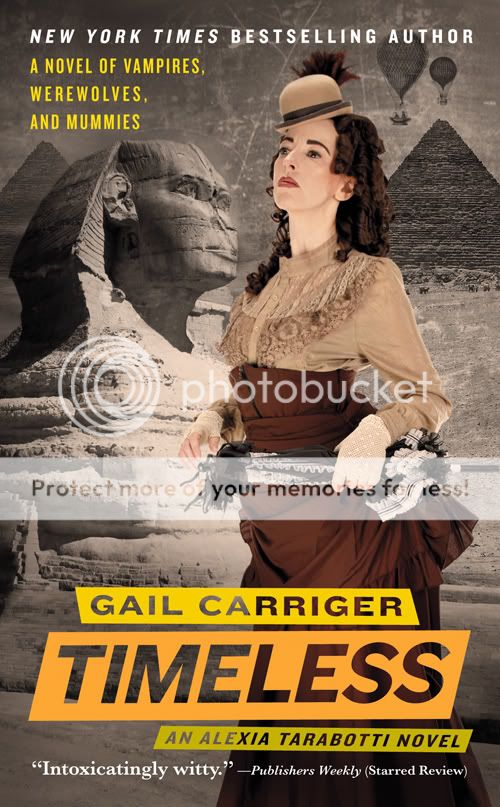 Cover photo: Pixie Vision Productions
Cover design: Lauren Panepinto
Cover model: Donna Ricci
TIMELESS
PARASOL PROTECTORATE:
BOOK THE FIFTH
BY
GAIL CARRIGER
ISBN: 978-0-316-12718-9
Pages: 386
Publisher: Orbit
Published: 1 March 2012
SPOILER WARNING! If you haven't read the
four previous books, this will contain spoilers.
On the cover:
Alexia Tarabotti, Lady Maccon, has settled into domestic bliss. Of course, being Alexia, such bliss involves integrating werewolves into London High society, living in a vampire's second best closet, and coping with a precocious toddler who is prone to turning supernatural willy-nilly.


Until, that is, she receives a summons from Alexandria that cannot be ignored. With husband, child and Tunstells in tow, Alexia boards a steamer to cross the Mediterranean. But Egypt may hold more mysteries than even the indomitable Lady Maccon can handle. What does the vampire Queen of the Alexandria Hive really want from her? Why is the God-Breaker Plague suddenly expanding? And how has Ivy Tunstell suddenly become the most popular actress in all the British Empire?
This book begins two years after the last in the series, Heartless, ends. This may seem like a strange choice considering how much we are used to is going on in Alexia Tarabotti's life. But it means that her daughter, Prudence, is grown enough to become a larger part of the story than she would have otherwise.
And Prudence is a wonderful character who adds a lot of humour to what is already a funny series of books. Discovering how the daughter of a soulless and a werewolf functions is very interesting, It also adds quite a bit to the supernatural lore of the world Miss Carriger has created.
One of the strengths of the Parasol Protectorate series has been the world it is set in, and this time around is no different. We get to know even more about how werewolves and vampires function, and there are some very interesting revelations about how preternaturals work here.
In this story we also get to leave Europe altogether and go to Egypt. And this trip shows us some interesting glimpses of how the Alternate History of this world is different from our own. But more importantly the setting is used to reveal several things that are important to the history of some of the characters.
Egypt is not the only setting, there is a parallel plot going on in London where some of the supporting characters from previous books get to show us more of who they are. Miss Carriger has managed to balance the two plot lines very well, both of the stories are very much part of the whole, and I would in no way call the one without Alexia a "B-plot".
There is quite a bit of mystery to the plot this time around. Miss Carriger is very good at giving the reader enough to keep them reading while still maintaining the suspense. Some of the revelations we get in this novel are shining a light on things that have been brought up earlier in the series, and it is good to see that we get answers to what has been brought up before.
Many of the characters we have encountered before also get to have their stories told here, and some of what happens to them here is very surprising. There are still stories to be told for many of them, and I suspect some of the events in this story will resonate into the planned follow-up series Parasol Protectorate Abroad. (And that's not really a very bold prediction when the first book is titled Prudence.)
There's always reason to be a bit concerned when a series is coming to an end, sometimes they can end in unsatisfying ways. That is not the case here, Miss Carriger has managed to build the series up from where it started in Soulless, and it is finishing on a high note. And when I speak of finishes, I must say that the one in Timeless really blew me away. There was so much happening towards the end that it was nearly exhausting, in a good way.
I don't think anyone who has followed this series from the beginning will be disappointed in this final volume. It is satisfying on many levels to end the journey here, it seems like this is the natural end of at least this chapter of the saga. (That a follow up series has been announced is a great bonus.)
If you are reading this without having read any of the books in the series, I would strongly urge you to pick it up. You have missed out on a great series.
I would like to thank Gail Carriger for giving me lots of fun, action, mystery, and engaging characters in an Alternate History I wouldn't mind living in. And I look forward to reading what she comes up with next.