Last week fellow blogger Ria Bridges posted this on her blog
Bibliotropic
. I thought it was interesting, and for once decided to do one of these meme thingies myself. Being as slow as I am, another fellow blogger, Abinhav Jain managed to get
his own
up before me.
Not that it matters how many others have done it. I think this is an interesting look into what others are reading and have read, and thought I'd share my own thoughts with you.
A
UTHOR YOU'VE READ THE MOST BOOKS FROM:
That would be Terry Pratchett. But despite me having read all the Discworld books, only by a margin of a few book. In second place is Jack Higgins, an author I've read since I was about 12 years. At which point my mother already had quite a few of his books. Actually, if I hadn't stopped buying every new Jack Higgins book in the early 1990s he would have beaten Pratchett by a few books. Stephen King is not far behind either, and those three could certainly trade places in the future.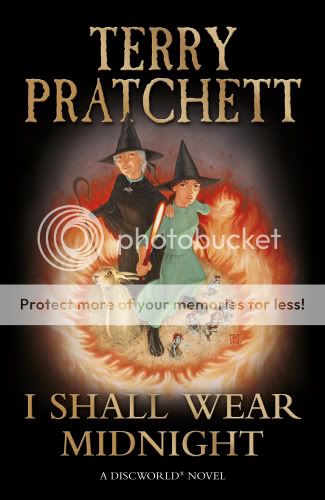 This is a hard one. Firstly, I'm arbitrarily going to not include books in a series if they are part of the same single story. Or to put that in clearer English, no book two or three in a trilogy, or book five in a Fantasy series. I'm also going to make this even more difficult for myself by disqualifying Discworld books.And I also have to take the Culture books I've read out of the running, since I don't consider them sequels. They are just set in the same universe. (Use of Weapons would be a favourite if I wasn't so strict. -Review here.)
So...this is actually still difficult. I think I'll have to go outside
SFF
on this one, and say Jo Nesbø's newest,
Police
. (Getting it's UK release this week, I've already
reviewed
it. I "cheated" and read it in Norwegian.) I haven't really got anything to add to my review, but it is really a superior sequel. It's worth reading at least it and the predecessor
Ghost
(Original title:
Gjenferd
) just to see how Nesbø makes writing a sequel into an art form. This is Crime, but there's certainly something in the way this story is structured that would carry over well to
SFF
.
At the moment I'm reading Stephen King's
Dolores Claiborne
. Part of my
ongoing project
to
review
every book Stephen King has written.
D
RINK OF CHOICE WHILE READING:
I don't drink alcohol at all when reading books. So usually what I drink while reading is coffee, and water.
E
-READER OR PHYSICAL BOOK:
I don't have an e-reader, and there's not any real chance of me getting one in the foreseeable future. I do read books on my computer though, mostly e-ARCs.
I do really like books, they appeal to me both as a reader and as a collector. I think books in a bookshelf is excellent furniture, and great for starting conversations. There's no way e-books can replace that for me.
F
ICTIONAL CHARACTER YOU PROBABLY WOULD HAVE ACTUALLY
DATED IN HIGH SCHOOL:
I got to assume here that the character we're talking about felt the same for me. Not that it matters much, I don't really think about fictional characters that way. And if they existed I'd have to meet them and see how they were in real life anyway before I could make make a decision about whether we could be dating.
G
LAD YOU GAVE THIS BOOK A CHANCE:
That one is actually very easy. Lord Foul's Bane by Stephen Donaldson. This is the infamous first book in The Chronicles of Thomas Covenant. Like many others I put it down when I got to the rape scene, I think I was 16 or 17 at the time. When I was 19 I thought I'd give it another chance, I'm very glad I did. I've reread the first two chronicles three times since then, and I will do it again sometime next year. (Probably, I call my TBR-pile TBR-mountain.)
I'd have to go with a book I read recently;
The Red Knight
by K.T. Davies. (
Review
.) The author sent me a copy, and I'm very glad she did. This has gotten very good reviews from a few people, but it certainly deserves to be read much more widely.
I
MPORTANT MOMENT IN YOUR READING LIFE:
I'm going to go a bit against what I assume is the purpose of this question, I'm not going to go with something that was very positive.
An important moment in my reading life was finishing The Sword of Truth series by Terry Goodkind. It was a fucking hard slog. The first book tricked me a bit, I read it in Norwegian, and that hid most of Goodkind's technical writing flaws. I didn't think book two or three were very bad, but after that it just gets worse and worse... Faith of the Fallen has got to be one of the worst pieces of crap ever written, it's an ultra-capitalist manifesto in Fascist-Fantasy form. And I still continued.
I've always been a completist. For instance, when I last read David Eddings Belgarion books, I read all twelve (Belgariad/Malloreon/Belgarath/Polgara). In a row. With no other books in between.
Reading The Sword of Truth series cured me of doing that, and if it hadn't it is unlikely that I would have this blog today. And if I was blogging, it would probably be a blog that did SFF series reviews. -That completist urge in me is why I am going to review all of Stephen King's books. And don't be surprised f any of the series I have reviewed some books of will one day be reviewed fully.
2312 by Kim Stanley Robinson. Review coming on this blog soon(-ish).
K
IND OF BOOKS YOU WON'T READ:
Gut reaction was to say Erotica here, but I was born before the Internet age so I have read Porn before. (And, no! There is no difference between Erotica and Porn, it's two different names for the same thing.) I don't think there really is any category of books I won't read. -Unless you count "books by authors I think are assholes" as a category. (Yes, I'm looking at you Orson Scott Card.)
Since I don't have a wordcount for the books I have read, I'll go by page count here.
The actual book I've read that has the most pages is
Gobi
by Tor Åge Bringsværd, clocking in at
1,463 pages
. (+ 20 pages according to my notes. Probably foreword or afterword, I don't have the book here right now.) This is of course an omnibus edition, of originally five books.
Meanwhile, my edition of Stephen King's The Stand comes in at 1,325 pages, and is the longest non-omnibus book I've read.
M
AJOR BOOK HANGOVER BECAUSE OF:
As the two other bloggers I've linked to at the top of this, I'm going to skip this one. Not sure what it means, and not sure I would have an answer if I was.
N
UMBER OF BOOKCASES YOU OWN:
I'm not answering this one. I'll just say that I'm uncertain if I need two or three more bookcases for my books.
O
NE BOOK YOU HAVE READ MULTIPLE TIMES:
Even if I said that I first read The Lord of the Rings when I was seven, and didn't actually remember that until I had read it several times since rediscovering it in my teens, that would be a boring answer, so I'll go with something else instead.
I got Black House by Stephen King and Peter Straub when it was new in 2001. I'd only read Carrie by King before that, and that was in Norwegian edition. I've now read this book three more times, and will do my fifth read of it (probably) sometime later this year. Black House is the book that got me hooked on King, and besides it being a great book it will always remind me of that. (And writing this reminds me I need to read some Peter Straub books.)
My sofa.
Q
UOTE THAT INSPIRES/GIVES THE FEELS:
I'm no good with quotes at all. I very rarely write them down when I read, and when I do it is usually because they are funny. I think I have one quote in all my reviews (might be wrong though, it's been over three years), and I'll use that. It's from Stephen King's Bag of Bones. (
Review
.)
I like people who read actual books, and not just because I once wrote them myself. Bookreaders are just as willing as anyone else to start out with the weather, but as a general rule they can actually go on from there.
That would be Goodkind's Sword of Truth again. I could have read at least 11 other books instead of those.
S
ERIES YOU STARTED AND NEED TO FINISH:
Malazan Book of the Fallen. I was only planning on taking a small break after finishing
Deadhouse Gates
, an emotionally exhausting book. (
Review
.) But I've yet to pick up the next book. I really need to do something about that.
T
HREE OF YOUR ALL TIME FAVOURITE BOOKS:
Three books are really way to few, so I'll cheat a little bit (really a lot) and count series as one. Discworld by Terry Pratchett, Realm of the Elderlings by Robin Hobb, and The Eternal Champion by Michael Moorcock.
But this is really one of those questions I don't feel comfortable answering at all, there are just so many good books out there. The three above are all among my favourite SFF series, but don't take it as a top three.
U
NAPOLOGETIC FAN GIRL FOR:
I should probably change that to boy, but I'm comfortable enough with my heterosexuality that I don't feel threatened by letting it stand.
And I don't think I have that fan enthusiasm any more. Reading for review gives you a bit more nuanced look at books. So while I can still vehemently argue that people should read a book, I don't think I am capable to do that in the uncritical way I associate with "fan boying". (No offence meant to anyone who considers themselves fan girls/boys. I admire your enthusiasm.)
V
ERY EXCITED FOR THIS RELEASE:
Being a blogger means you usually have a good idea of what's coming out for quite a while into the future. I could probably mention 50 books I want to read that aren't out yet. The one I would said I am most excited for right now is Stephen King's Doctor Sleep, and Terry Pratchett's Raising Steam not far behind.
Ria and Abinhav is going with having too many books in the TBR-mountain. I can relate to that.
X
MARKS THE SPOT: START AT TOP LEFT AND PICK THE 27TH BOOK ON YOUR SHELF:
Daughter of Dreams - Elric The Moonbeam Roads Book One by Michael Moorcock.
Y
OUR LATEST BOOK PURCHASE:
The Crow Road by Iain Banks.
Any book I like does that to me, "I just want to read a chapter before I go to sleep"... -But Pratchett is particularly bad for this, seeing as he has no chapters. Makes it very easy to read until you are seconds away from falling asleep.